About Us

San Francisco Japantown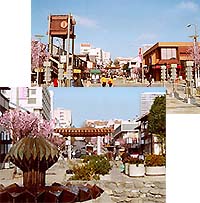 Buchanan Mall

Although more than fifty Japantown's existed in the U.S. before World War II, now only three of them remain, in San Francisco, Los Angeles and San Jose. San Francisco Japantown moved from Chinatown and South Park, where it was originally located, and was reestablished at the present location spanning four square blocks bordered by Post, Geary, Laguna and Fillmore Streets after earthquake of 1906. Since then, Japantown has been a place of rest and relaxation for Japanese settlers.

In today's San Francisco Japantown, there are Japanese restaurants as well as Chinese and Korean restaurants and a variety of stores that carry Japanese goods, such as Japanese antiques, music CDs, books and groceries. Moreover, festivals are held annually including: the Cherry Blossom Festival in April, the Bon Festival in August and the End of Year Festival in December. Japantown is known as one of the best sightseeing spots in San Francisco. Many tourists from all over the world visit here to taste a mixture of Japanese and other Asian culture, which the settlers developed in order to build their own community and settle down in a foreign land.

Festivals

Cherry Blossom Festival
Started in 1967, the Northern California Cherry Blossom Festival is a colorful and spectacular celebration of spring. The festival is held in Japantown, spanning 2 weekends in April. During the festival, people can enjoy food and artwork in many booths on Buchanan, Post and Webster Streets. The parade has a Mikoshi (portable shrine) which is an essential element for Japanese festivals.

Bon
The Bon Festival is held during the first weekend of August in Japantown. The Bon Festival is originally a Buddhist Ceremony to invite ones family ancestors back to this world in order to comfort and entertain them. In the festival, there are Japanese traditional performances, such as Taiko (drumming) and the Bon dance.

About Nich Bei Times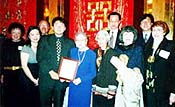 Nichi Bei Times Recognized for Pioneering Efforts

The Nichi Bei Times was founded in 1946 to get the community "reconnected" after the World War II internment of Japanese Americans. It is the oldest Japanese American bilingual daily in Northern California.

Nichi Bei Times Recognized for Pioneering Efforts
In the first annual New California Awards, the Nichi Bei Times, La Oferta Review and The Post Newspaper Group were presented the Pioneer Award. Judge wanted to honor those publications that were pioneers in the ethnic press, and continued to provide serveces to their communities many years later.


Read the article
Focusing on the hard-to-reach Japanese-speaking population
While mainstream newspapers reach a broader audience, advertisers have realized that the only way to reach the lucrative ethnic-specific markets is through the bilingual newspapers. Readers of the Nichi Bei Times include a number of older, monolingual Japanese readers who get their primary source of news from the Nichi Bei.


Advertising Information